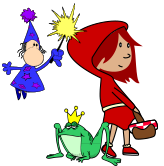 This 30 to 60 minute program turns traditional fairy tales upside down with hilarious results. Utilizing short skits, puppets, rhymes, and audience participation, the fairy tales are presented with new twists and turns that will have your students laughing and asking for more. The books used in this program are: Old MacDonald Had a Dragon by Ken Baker, Falling for Rapunzel and Waking Beauty by Leah Wilcox and Peas Let Her Be a Princess by Diane E. Keyes.
Scrambled Fairy Tales was first performed at Walker Elementary School in Seminole County on May 17, 2013 for the 2nd grader's Fairy Tale Ball. In October 2013, we began performing for Give Kids the World, a 79-acre, nonprofit resort in Central Florida that provides weeklong, cost-free vacations to children with life-threatening illnesses and their families.
Once a month we provide our Scrambled Fairy Tales to the families in this facility. The book, Peas Let Her Be a Princess by Diane E. Keyes, is given to each family.
Here's a sneak peak: https://www.youtube.com/watch?v=c_wVIZmofDU