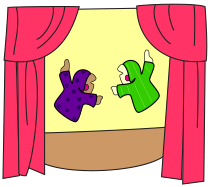 This program is designed to encourage families to enjoy literature, to be curious learners, to take a break from their difficulties and to smile. Performed monthly in locations such as the Coalition for the Homeless of Central Florida (since 2003) and the Florida Hospital for Children (since 2012), this positive 30-40 minute reading experience includes a selection of the following: puppet shows, picture books (often accompanied by music), magic, science experiments, creative stretches, poetry, fingerplays, and rhymes.
Gifts and activities, such as bookmarks, crafts, finger puppets, hands on science experiments, and books are often shared with the families at the end of the program.
These programs are lead by qualified Literacy Alliance volunteers and a select group of student volunteers ranging in age from middle school to college. The student volunteers genuinely enjoy this opportunity to participate in their community in a meaningful way while gaining a better understanding of the issues of their community.
Go to our calendar of events for information on upcoming performances.