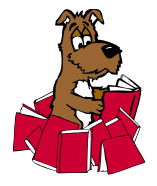 Book Busters provides a 30 to 60 minute program that includes improvisational and scripted puppet shows, skits, magic and science tricks, audience participation, and songs. These programs are perfect for preschool to 3rd grade. All Book Buster programs are interactive, interesting, and generate huge smiles from our audience. Our programs appeal to a variety of students because we provide a variety of stories on a variety of topics. But we also excel at themed programs. Let us design the perfect program for your event.
This storytelling troupe is not only a great program, but an avenue for young adults to meaningfully interact with children and literature. In this program students are given the opportunity to convey their enjoyment and love of reading to preschool and elementary school students while learning teamwork, leadership, and presentation skills. Every fall and spring semester, five to six teens practice for over a month to create a new program which is performed at Seminole County daycares, elementary afterschool programs, summer school programs, Autistic camps, and special events such as PTA Literacy Nights and the UCF Book Fair. As of spring 2016, 77 students provided 27 unique shows, which were performed over 227 times in 22 different locations connecting over 7,200 students with books and reading.
This storytelling troupe began in 2003 and has included students from a variety of schools including homeschooled groups, Crooms Academy of Information Technology, Hagerty High School, Lake Howell High School, Oviedo High School, Seminole High School, Winter Springs High School, and the University of Central Florida. This program is lead by qualified youth services librarians who are also members of The Literacy Alliance.
We applaud these energetic teens who are making a difference in our community and offer our hearty congratulations on a job well done. Many agree with our appreciation of the troupe's efforts—you can read some of their comments here. Go to our calendar of events for information on upcoming performances.
The Literacy Alliance is very grateful to the Seminole County Friends of the Library, Target, and the Women's Club of Oviedo for their support of this program. We've been able to purchase puppets, puppet stages, microphones, speaker systems, assorted props, and Book Buster T-shirts through their generous donations. We appreciate the continuing support!
Find our movies on

:

Do you book buster? by Lizzy Wilson
https://youtu.be/qLQPgwP-48M
Book Busters Spring 2017
https://www.youtube.com/watch?v=qLQPgwP-48M
Teen Storytellers: Book Busters
http://youtu.be/XULnXo-jSWE
Barnes & Noble Fundraiser
Fall 2012 Performance
http://www.youtube.com/watch?v=APVvXVaIxP4
Fall 2010 Performance
http://www.youtube.com/watch?v=s15BfJEaaoI
Fall 2010 Performance, Part III
http://www.youtube.com/watch?v=cd4ui8ARJ0I